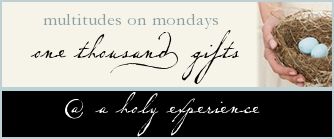 58. Four 6th graders sitting around my table for lunch at school.
59. Miss Ruby's prayers for my family (even as she sits in a wheelchair at the nursing home.)
60. Little hand sticking up out of the truck window waving at me.
61. A hug from my minister.
62. Early out at school.
63. Little 12 year old boys sitting on the floor in my office, making necklaces for their mothers.
64. Cooking elk spaghetti for my husband.